Meg goes in search of Mrs Richardson
BIRMINGHAM PLANET, MAY 12th 1966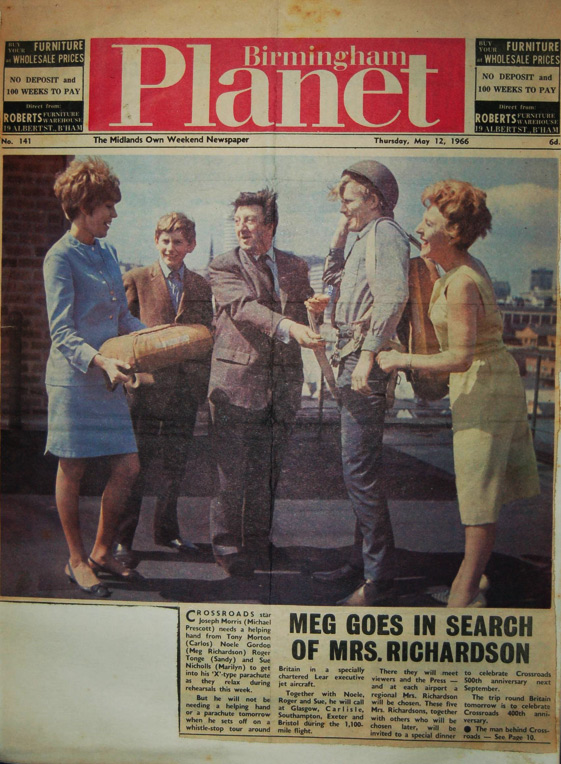 CROSSROADS star Joseph Morris (Michael Prescott) needs a helping hand from Tony Morton (Carlos) Noele Gordon (Meg Richardson) Roger Tonge (Sandy) and Sue Nicholls (Marilyn) to get into his 'X' type parachute as they relax during rehearsals this week.
But he will not be needing a helping hand or a parachute tomorrow when he sets of on a whistle-stop tour around Britain in a specially chartered Lear executive aircraft.
Together with Noele Gordon, Roger Tonge and Sue Nicholls,  he will call at Glasgow (STV), Carlisle (Border), Southampton (Southern), Exeter (WestWard TV) and Bristol (TWW) during the 1,100-mile flight.
There they will meet viewers and the press – and at each airport a regional Mrs. Richardson will be chosen. These five Meg Richardson's, together with others who will be chosen later, will be invited to a special dinner to celebrate Crossroads 500th anniversary next September.
The trip around Britian tomorrow is to celebrate Crossroads 400th episode.
---
Birmingham Planet, front page feature, 1966