Gongs and Honours
A list of awards Noele Gordon won during her television career.
WOMEN OF THE YEAR
In 1962 Noele Gordon was one of the 'Women of the Year' celebrated at the annual event. Former Mayor of Coventry Pearl Hyde, who had also recently joined ATV as a on-screen personality, was another celebrated at the luncheon.
---
ITV PERSONALITY OF THE YEAR
1967 saw Noele Gordon, voted for by readers of the listings magazines for ITV, the station's Personality of the Year.
---
TV TIMES AWARDS
The TVT Awards launched in 1969, and right from the start Noele Gordon featured in the Top Ten personalities list. She went on to win several awards, including at one point taking away three gongs in one year alone.
Awards given to her by TV Times magazine, that throughout the 1970s and 80s were televised by ITV, included Most Compulsive TV Character, Most Popular ITV Personality and Best Actress.
In 1975 to mark the massive number of awards Noele had been bestowed over the previous six years she was honoured to be given the first Gold TV Times Award. The only other TVT winner to be issued one was fellow ATV performer Des O'Connor, who also dominated the gong show for several years.
---
PYE LADIES OF TELEVISION
In 1970 Noele Gordon was just one of a number of popular television personalities celebrated for their work by the Pye Group.
Others in attendance were Liz Fox, Tricia Madden, Bunty James, Valerie Singleton, Justine Lord, Thora Hird, Joan Gilbert, Sandra Gough, Jeanne Heal, Sylvia Peters, Katheryn Davies, Angela Rippon, Marion White, Pat Eaglestone, Jill Bechley, Liz Carse, Sheila Kennedy, Katie Boyle, Jane Probyn, Mary Malcolm and Judith Chalmers.
---
HEAD OF THE YEAR
In 1974 Noele Gordon was crowned 'Head of the Year' at an award show hosted by the National hairdressers' Federation.
The gong was issued "for good hair grooming in public." Sadly Noele wasn't able to attend her hairdo winning event, but instead Lulu accepted the award on behalf of Noele Gordon from Cliff Richard.
Noele attended the event in 1975 to pass on the award to another glorious hairdo.
---
TV TIMES HALL OF FAME
In 1978 Noele Gordon was the first to be entered into the TV Times Hall of Fame following her record breaking wins at the annual gong event since 1969. Entry to the HoF saw Noele bestowed one last specially designed TV Times Award to add to her ever increasing collection of gongs.
Due to winning so many Noele kept her prizes in the back of her garage, very few of the TVT, or other awards,were displayed in her home.
---
VARIETY CLUB OF GREAT BRITAIN TRIBUTE TO NOELE GORDON & CROSSROADS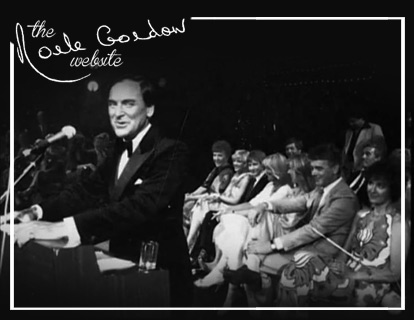 In 1980, The Variety Club of Great Britain held a tribute evening in celebration of Noele Gordon and her serial, Crossroads.
The evening was recorded by ATV for a special feature during their local news show ATV Today, while the event was attended by viewers and a host of friends of Noele and many of the cast from Crossroads past – and at the time present. These included Sue Nicholls, Anthony Morton, Roger Tonge, Jane Rossington, Janet Hargreaves and Tony Adams.
The tribute was hosted by Bob Monkhouse, who had appeared on Lunchbox with Noele in 1963 and also had made a guest-spot in Crossroads in 1966.
---
HONOURARY MENTIONS
ROSEBUD PELARGONIUM NAMED NOELE GORDON
Noele was honoured to have a Rosebud Pelargonium flower named in her honour in 1980.  The pink flower is still available to purchase. Prior to this a purple chrysanthemum had been named after Noele in 1960 as ATV News reported.
STREET NAME
We can only assume for her contribution to promoting the Midlands to a national and international audience that this 1980s built road and residential street running off the much older Camden Street in Walsall appears to have been given the name of Noele Gordon Gardens. WS1 4JB.
The name, however, has very little purpose with it being the back doors of the houses running from Camden Street that surround the road – therefore you can't send a letter to Noele Gordon Gardens – still it's the thought that counts.
There is a theory that the gardens, with its tribute name, stood there green and pleasant before the houses were built, but we have no record of this – so it is a bit of a mystery. Any ideas?
---
With thanks to Simon Vaughan for PYE Group event information and pictures. Noele Gordon Gardens view via Google Maps.