Palladium Principal with 'Umpteen Relatives in Aberdeen'
EVENING EXPRESS, DECEMBER 22nd 1951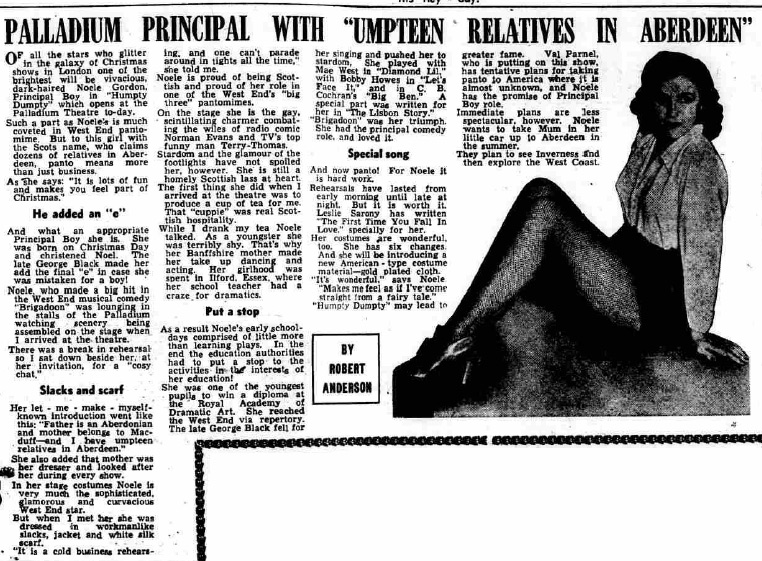 Of all the stars who glitter in the galaxy of Christmas shows in London one of the brightest will be vivacious, dark-haired Noele Gordon, Principal Boy in Humpty Dumpty which opens at the Palladium Theatre to-day.
Such a part as Noele's is much coveted in West End pantomime, But to this girl with the Scots name, who claims dozens of relatives in Aberdeen, panto means more than just business.
As she says; "It is lots of fun and makes you feel part of Christmas".
And what an appropriate Principal Boy she is. She was born on Christmas Day and christened Noel. The late George Black suggested she add the final 'e' in case she was mistaken for a boy!
Noele who made a big hit in the West End musical comedy Brigadoon was lounging in the stalls of the Palladium watching scenery being assembled on the stage when I arrived at the theatre.
There was a break in rehearsals so I sat down beside her at her invitation, for a cosy chat.
Her let – me – make – myself – known introduction went like this; "Father is an Aberdonian and mother belongs to Macduff – and I have umpteen relatives in Aberdeen".
She also added that mother was her dresser and looked after her during every show. In her stage costumes Noele is very much sophisticated, glamorous and curvacious West End star.
But when I met her she was dressed in workman-like slacks, jacket and white silk scarf "It is a cold business rehearsing, and one can't parade around in tights all the time" she told me.
Noele is proud of being Scottish and proud of her role in one of the West End's big three pantos. On the stage she is the gay, scintillating charmer – combating the wiles of radio comic Norman Evans and TV's top funnyman Terry Thomas.
Stardom and the glamour of the footlights have not spoiled her, however, she is still a homely Scottish lass at heart. The first thing she did when I arrived at the theatre was to produce a cup of tea for me. That 'cuppie' was real Scottish hospitality.
While I drank my tea Noele talked. As a youngster she was terribly shy. That's why her Banffshire mother made her take up dancing and acting. Her girlhood was spent in Ilford, Essex, where her school teacher had a craze for dramatics.
As a result Noele's early school-days comprised of little more than learning plays. In the end the education authorities had to put a stop to the activities in the interests of her education. She was one of the youngest pupils to win a diploma at the Royal Academy of Dramatic Art (RADA).
She reached the West End via repertory. The late George Black fell for her singing and pushed her to stardom. She played with Mae West in Diamond Lil, with Bobby Howes in Let's Face It and C.B. Cochran's Big Ben.
A special part was written for her in The Lisbon Story, Brigadoon was her triumph – she had a comedy role and loved it.
And now panto! For Noele it is hard work. Rehearsals have lasted from early morning until late at night. But it is worth it. Leslie Sarony has written The First Time You Fall In Love especially for Noele.
Her costumes are wonderful too. She has six changes and she will be introducing a new American-type costume material – gold plated cloth. "It's wonderful," says Noele, "Makes me feel as if I've come straight from a fairy tale."
Humpty Dumpty make lead to greater fame. Val Parnel, who is putting on this show, has tentative plans for taking panto to America where it is almost unknown, and Noele has the promise of Principal Boy role.
Immediate plans are less spectacular however. Noele wants to take mum in her little car up to Aberdeen in the summer. They plan to see Inverness and then explore the West Coast.
---
Evening Express, written by Robert Anderson, 1951