More companies will take Crossroads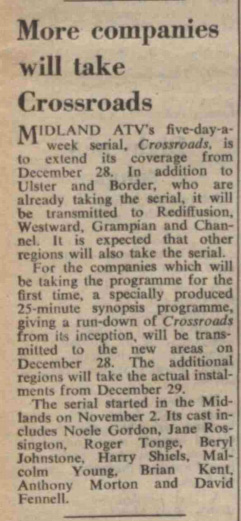 THE STAGE, DECEMBER 17th 1964
MIDLAND ATV's five-days-a-week serial Crossroads, is to extend its coverage from December 28.
In addition to Ulster Television and Border Television, who are already taking the serial, it will be transmitted to Rediffusion London, Westward, Grampian Television and Channel Television.
It is expected that other regions will also take the serial.
For the companies which will be taking the programme for the first time, a specially produced 25-minute synopsis of the programme giving a run-down of Crossroads from its inception, will be transmitted to the new areas on December 28. The additional regions will take the actual (episode) installments from December 29.
The serial started in the Midlands on November 2. Its cast includes Noele Gordon, Jane Rossington, Roger Tonge, Beryl Johnstone, Harry Shiels, Malcolm Young, Brian Kent, Anthony Morton and David Fennell.
---
The Stage, Television Today, 1964