The Unforgettable Noele Gordon
In 2012 ITV paid tribute to one of their biggest stars of the sixties and seventies with a half-hour primetime documentary, The Unforgettable Noele Gordon.
The special, produced lovingly by North One Television, charted Noele's rise from theatre fame via a brief dabble with the big screen to the heights of national fame on Independent Television.
The series looked at her TV roles from hostess of mid-day magazine show Lunchbox through to her pioneering role on the UK's first daily half-hour serial, Crossroads. A show she starred in for nearly 18 years as Meg Richardson/Mortimer, and won many awards during her time in the role.
ATV colleagues including Tony Adams (Crossroads, Adam Chance), Jane Rossington (Crossroads, Jill Richardson), Susan Hanson (Crossroads, Diane Hunter) and Anne Diamond (ATV Today) as well as her personal assistant Ken Felton and friends such as Jean Bayless who she had worked at the London Palladium with, director Alan Coleman and floor manager Keith Lascelles all featured recalling their memories of the "Brummie Queen".
---
Here are a few of the newspaper promotions for the production.
---
DAILY MAIL

Profile of the Day: The Unforgettable Noele Gordon, ITV1, 7.30pm
Before Dynasty's Alexis Colby, Crossroads' Meg Mortimer was television's original tenacious businesswoman.
Presiding over her Midlands motel like a high-heeled commander-in-chief, her character was the last word in Seventies glamour. The dramatic life of the actress Noele Gordon who created the soap legend is remembered here.
---
TV EASY MAGAZINE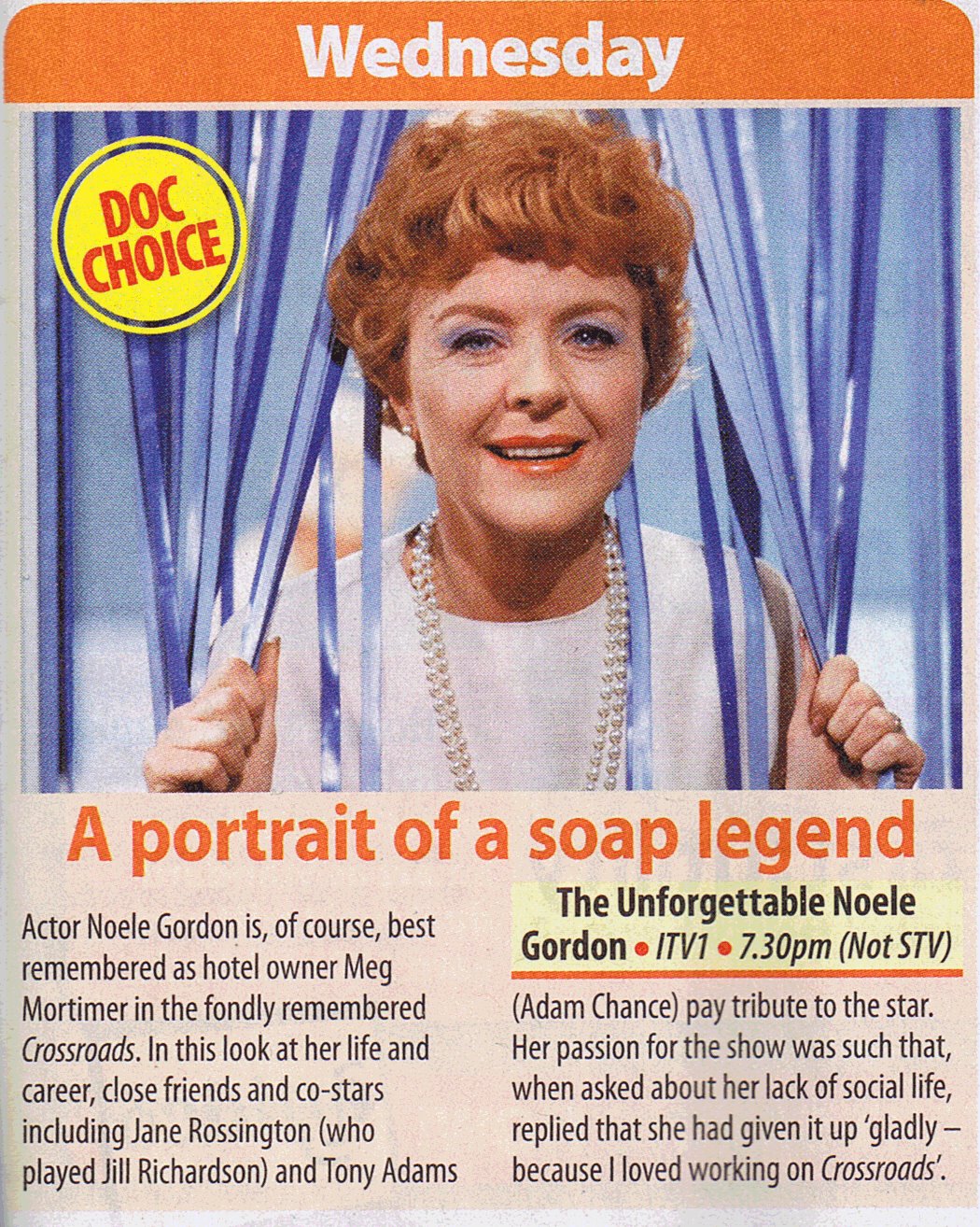 A Portrait of a soap legend: The Unforgettable Noele Gordon, ITV1, 7.30pm
Actor Noele Gordon is, of course, best remembered as hotel owner Meg Mortimer in the fondly remembered Crossroads. In this look at her life and career, close friends and co-stars including Jane Rossington (who played Jill Richardson) and Tony Adams (Adam Chance) pay tribute to the star.
Her passion for the show was such that, when asked about her lack of social life, replied that she had given it up gladly 'because I love working on Crossroads'.
---
INSIDE SOAP MAGAZINE
Soap and Glory, The Unforgettable Noele Gordon, ITV1, 7.30pm
Tonight's episode [in the Unforgettable series] pays tribute to the actress best known as Meg Mortimer on iconic ITV soap Crossroads.
Friends of the star, including co-stars Tony Adams and Jane Rossington, will be providing an insight into Noele's life on and off set, revealing that in real life she had many things in common with Meg and how devastated she was when she was fired from the show in 1981.
---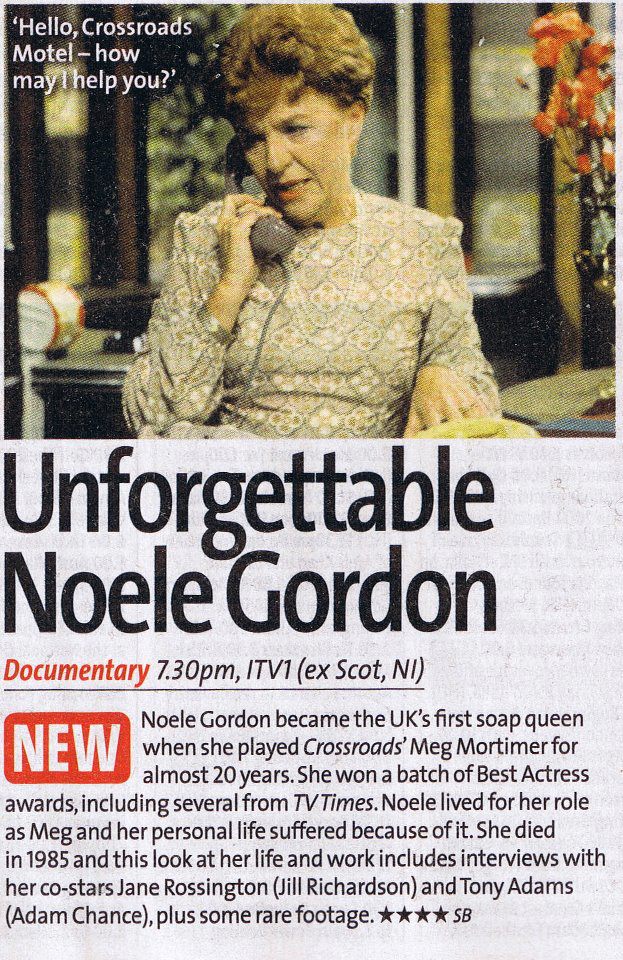 TV TIMES MAGAZINE
'Hello, Crossroads Motel – How May I Help you?' – Unforgettable Noele Gordon, Documentary 7.30pm ITV1
Noele Gordon became the UK's first soap queen when she played Crossroads' Meg Mortimer for almost twenty years.
She won a batch of Best Actress awards, including several from TV Times.
Noele lived for her role as Meg and her personal life suffered because of it.
She died in 1985 and this look at her life and work includes interviews with her co-stars Jane Rossington (Jill Richardson) and Tony Adams (Adam Chance) plus some rare footage. (Four star rating)
---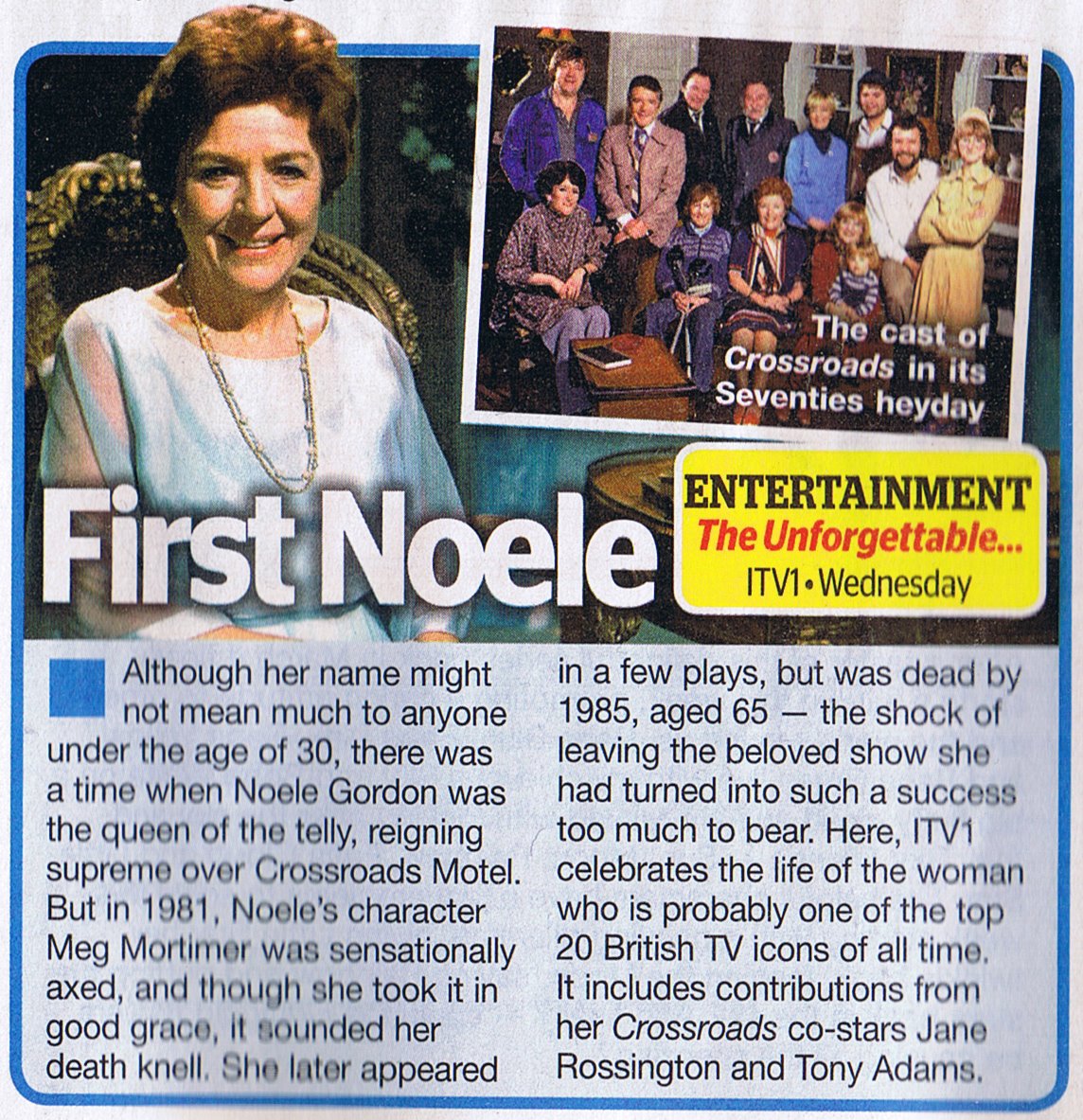 WHATS ON TV
First Noele, The Unforgettable Noele Gordon, ITV1 – Wednesday
Although her name might not mean much to anyone under the age of 30, there was a time when Noele Gordon was the queen of the telly, reigning supreme over Crossroads Motel.
But in 1981, Noele's character Meg Mortimer ws sensationally axed, and although she took it in good grace, it sounded her death knell. She later appeared in a few plays, but was dead by 1985, aged 65 – the shock of leaving the beloved show she had turned into a success too much to bear.
Here, ITV1 celebrates the life of the woman who is probably one of the top 20 British TV Icons of all time.
It includes contributions from her Crossroads co-stars Jane Rossington and Tony Adams.
---