B-Z-Z! – And Noele gets a Star Offer on the M1
DAILY MIRROR, DECEMBER 7th 1959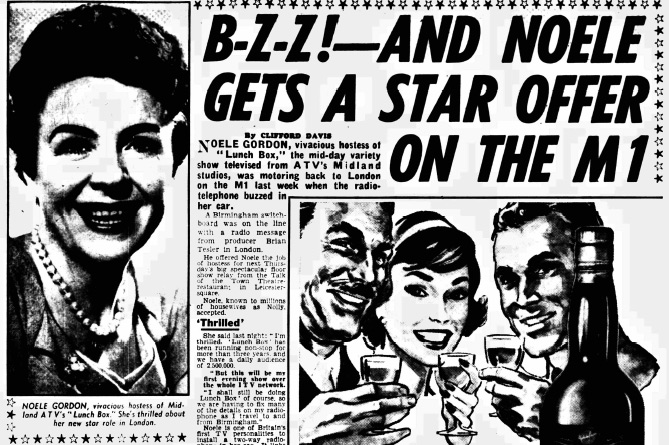 NOELE GORDON, vivacious hostess of Lunch Box the mid-day variety show televised from ATV's Midland studios, was motoring back to London on the M1 last week when the radio telephone buzzed in her car.
A Birmingham switchboard was on the line with a message from producer Brian Tesler in London.
He offered Noele the job of hostess for next Thursday's big spectacular floor show relay from The Talk of The Town Theatre Restaurant in Leicester Square.
Noele, known to millions of housewives as Nolly, accepted.
THRILLED
She said last night "I'm thrilled. Lunch Box has been running non-stop for more than three-years and we have a daily audience of 2,500.000.
"But this will be my first evening show over the whole ITV network. I shall still be doing Lunch Box of course, so we are having to fix many of the details on my radio phone as I travel to and from Birmingham".
Noele is one of Britain's first TV personalities to install a two-way radiophone in her car. It links her with both London and Birmingham. Her call-sign is 'Red One'.
Lunch Box was on the whole ITV network until the middle of September when it was dropped in London. Thousands of housewives protested at the loss of their mid-day show.
Lunch Box will be back on the FULL ITV Network on Christmas Day.
---
Daily Mirror, written by Clifford Davis, 1959